D1041 General Report
November 2015 - July 2016
Facebook Digest, Matt Lindley and Team D1041
Far too long has once again passed since the last update. Much of the week to week work is documented on Facebook, which wasn't really a big thing when the project began. This update is a digest of the work reported via Facebook and the D1041 website will continue to document the work. If any of you wish to follow progress there please visit D1041 Western Prince overhaul FB group, you will need to ask to join and await moderator approval.
So then, since the last update there has, as ever, been steady progress. Towards the end of November two replacement cores for the transmission heat exchangers were secured. These cool down the transmission oil and transfers out a lot of the heat energy created when driving the torque converters. D1041's original cores have suffered from leaking tubes and are heavily blanked off as a result which reduces the efficiency of the component. They have also suffered scale and frost damage over the years and it is highly beneficial to replace the cores.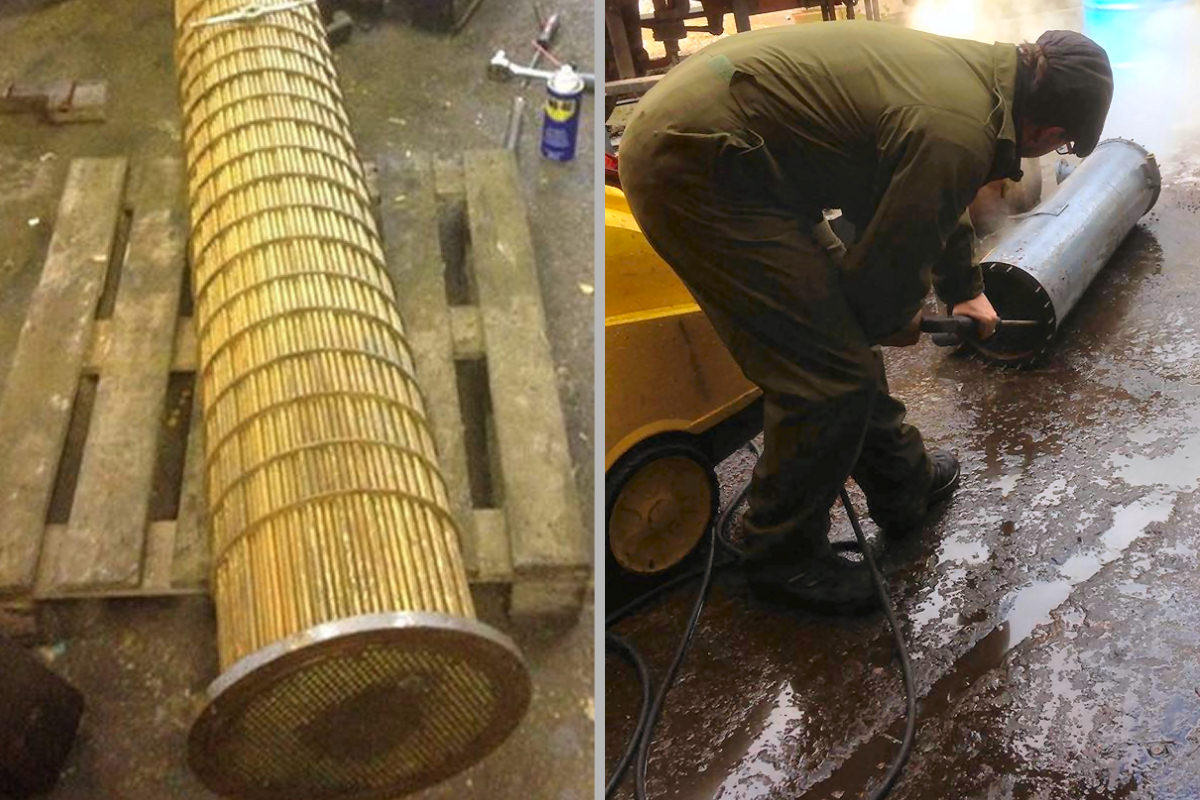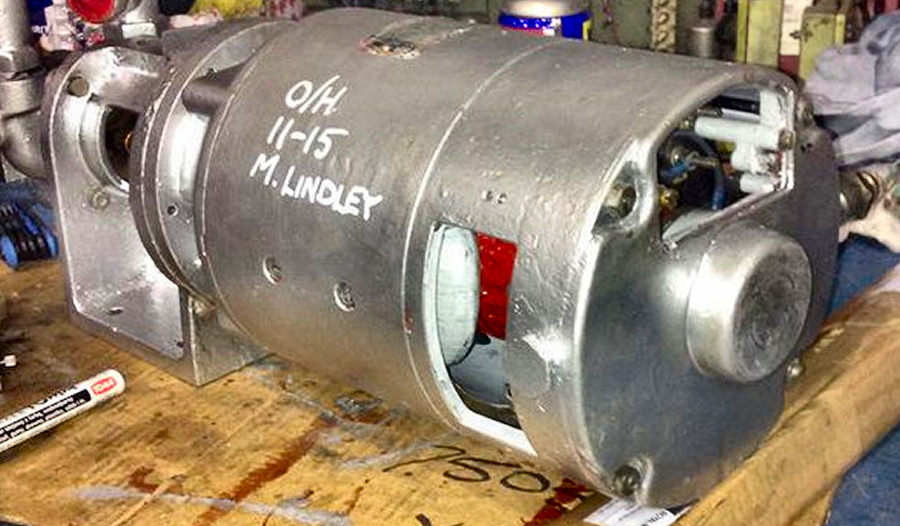 Heat exchanger core separated from housing (left), A-End Oil Priming Pump dismantled (top right) and B-End Fuel Lift Pump completed.
Work on the smaller machines has been ongoing with B-End Fuel-Lift-Pump completely stripped and inspected, megger tested, fields baked and all re-varnished. The armature insulation has been rebanded and the commutator thoroughly dressed and undercut. The pump housing had a failed drive bearing replaced, new gaskets fitted, pressure relief valve set and finally all greased and lubricated.
A-End Oil Priming Pump has also seen attention. The readings were low so it spent three days in front of a space heater drying out. The armature banding wasn't as bad as the last one so only had to re-band the riser ring. Mechanically it was ok, no bearings needed replacing this time. The drive coupling was massively worn due to being fitted out of alignment many decades ago I assume. The bore of the brass boss almost ova so this was drilled, heated and a brass sleeve pressed in. Alignment now spot on. Load tested it and runs well. Happy days!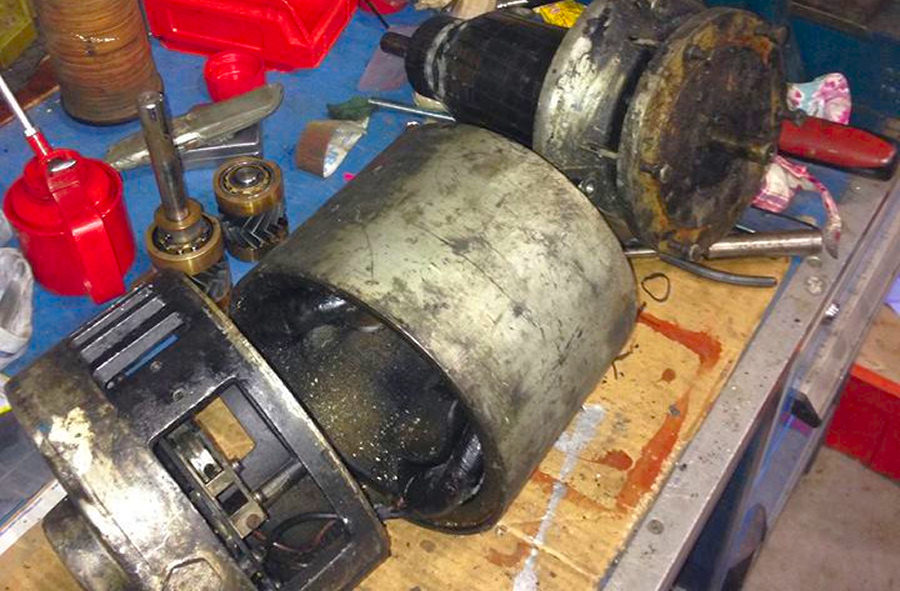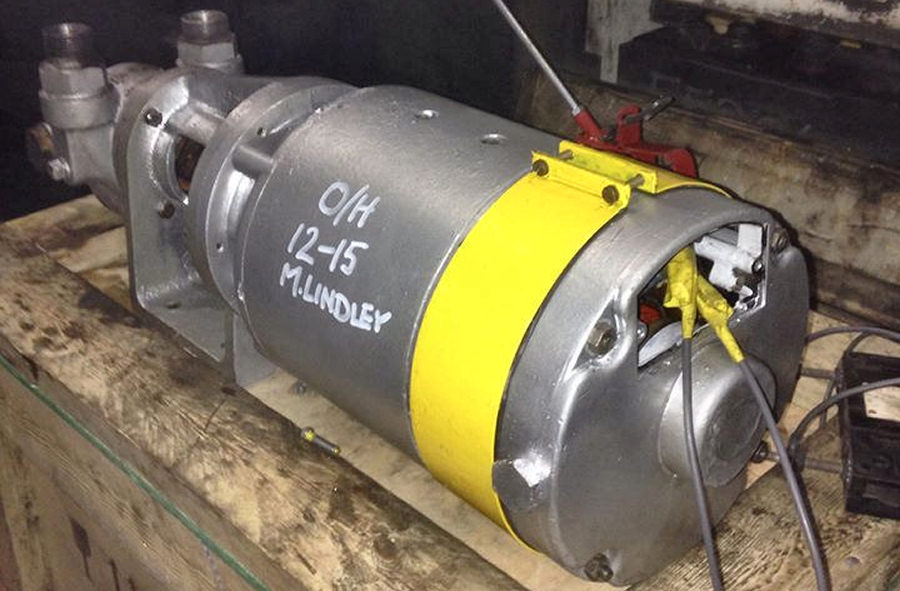 The A-End Oil Priming Pump has, like everything else, had the full treatment! It is seen dismantled (top left) and fully overhauled (bottom left) plus a view inside on the right.
It has been agreed to send away B-end Dynostarter to an external specialist firm for overhaul. This has suffered from years of use and old age. It will be craned out and sent away meaning it shouldn't cause any issues once the locomotive is back in operation. Removing the Dynostarter also means disconnecting the associated shaft, which is in a nasty place!
To answer the "How the hell do you get in there?" question .. The route involves "Access cover in the bottom of the cooler group, followed by being a contortionist!"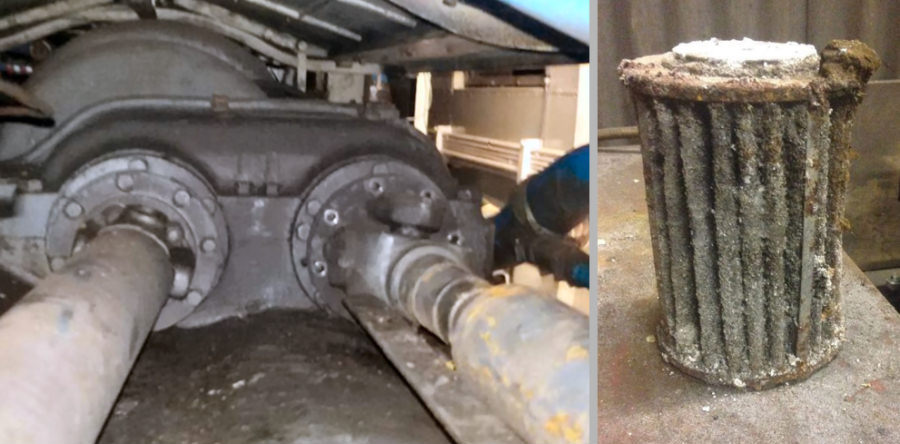 B-End Intermediate Drive (left) and a Vacuum Strainer which has seen better days (right).
As can be seen above, one of the Vacuum Strainers liberated has certainly seen better days. We have replacements, but in some ways it looks worse than it is with much of the corrosion being due to standing over the last few years in a cold shed.
The festive season and winter bugs lingered rather, but we were back to it in February. Some craft and precision fabrication making new sections of electrical trunking for A-end which once finished will allow all the remaining wiring to be run into the other cab and a last push on the rewire.
Battery cable work has also been ongoing along with the battery charging socket. A-End fuel lift pump loosely fitted in the loco and more silver soldering work to air system pipe work at A-End.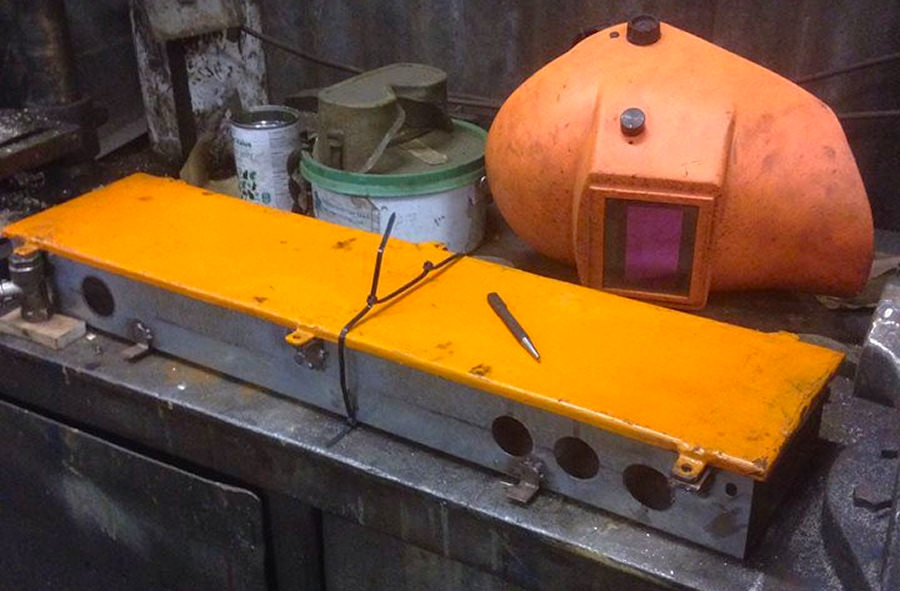 One of the newly fabricated sections of electrical trunking for A-end cab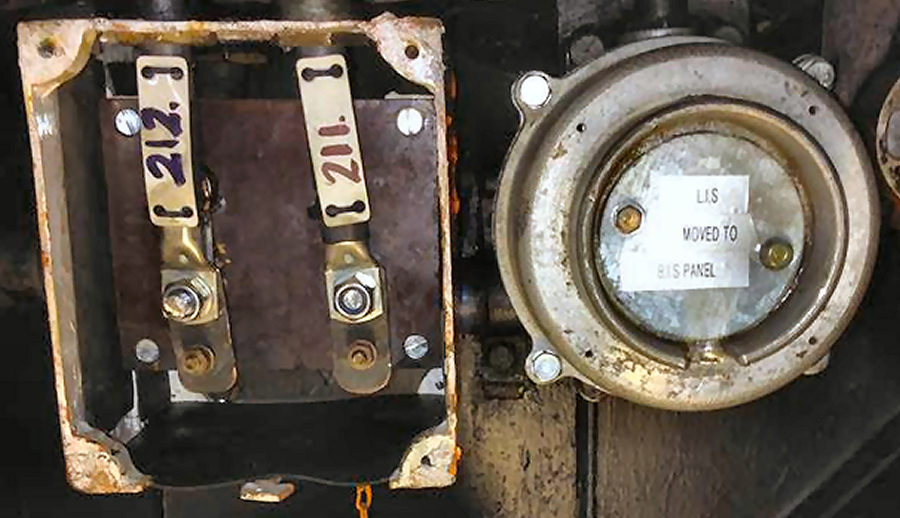 Battery cables lined up to be terminated (left) and in situ with terminal box back together, there is absolutely no room for error here! The old ones were a pain to remove and the replacements just as bad to install!
Never in my life have I had to get a crimp measured so perfectly onto a cable. It took me and Stephen a full day to get the battery cable through from the other side and there is no give what so ever. The back cable with a couple of centimetres showing has to be inch perfect to fit on the back of the terminal block. Don't cut to short now!! What a fantastic design...
It would be inappropriate to use the descriptive words I'd like to here, but I'm sure you can imagine! Finally, battery cables terminated and terminal box back together. Just a few links between boxes to run in then the loco cables to terminate on the Battery Isolation Switch. The new charging and shore supply sockets should also have been fitted but, in typical Lindley fashion, I've put them in a secure location and can't for the life of me find them. Oh well, another small section completed.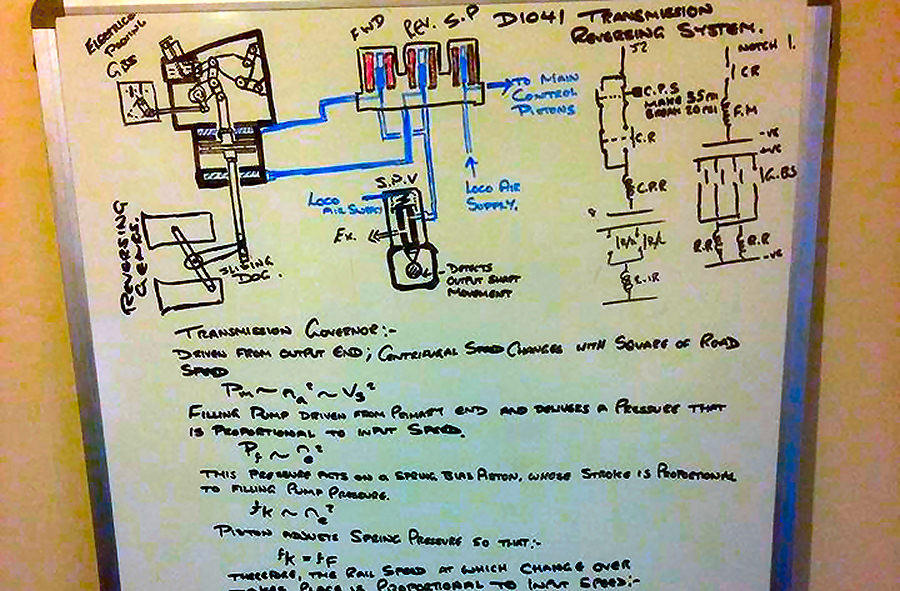 Whiteboard reverser thinking space ...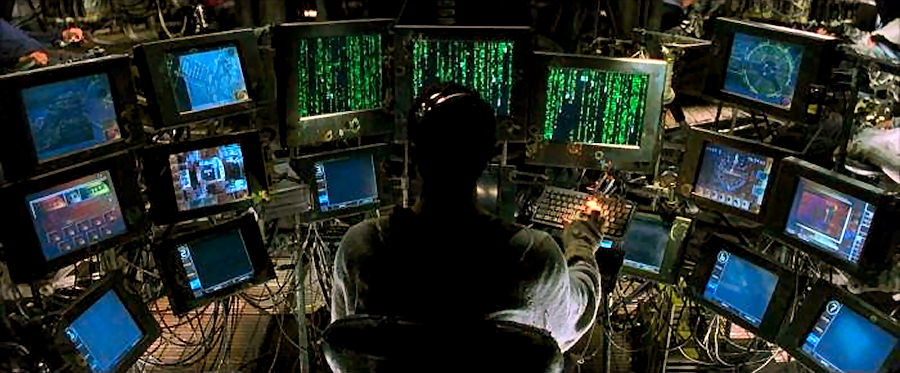 Just about finished writing a technical guide for dummies on how the reversing system works ... Possibly! It's not that complicated, well actually .. you have to laugh etc!
Away from the loco itself I have been getting my head well and truly into the world of Diesel Hydraulic reversers, how they should work, why Prince's became so temperamental and how to put right and improve on the systems, in search of the perfect 'clunk' every time.
I am determined to make D1041 reverse perfectly every time if it's the last thing I do! Oh and just for added spice I'm breaking down the science of the governor as well, never a dull moment!
Despite the various electrical advances, there are still many 'bread and butter' restoration tasks outstanding. The diesel department and volunteers from other railway walks have shown a great desire to muck in too!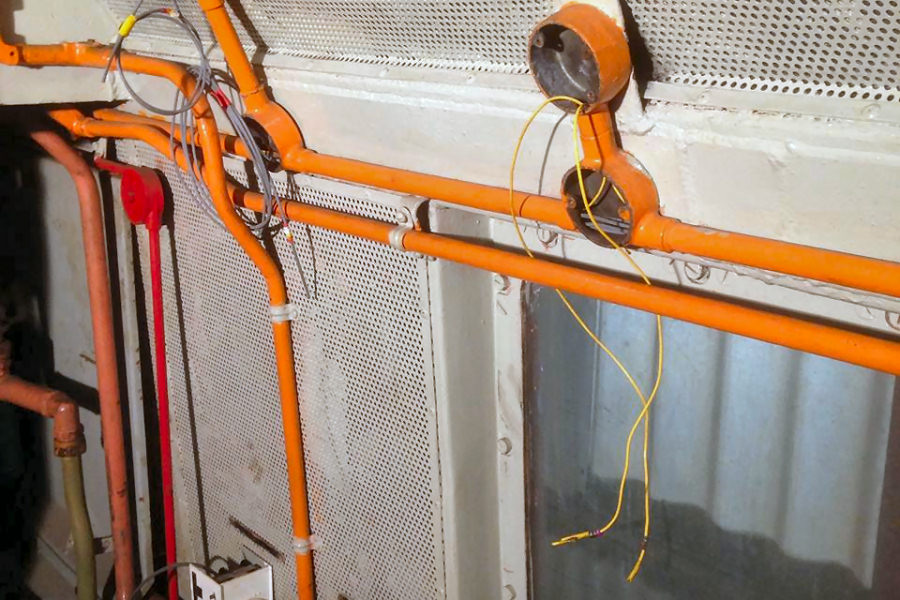 Dave Mylett steam cleaning the Transmission Heat Exchanger casings (left) and fine yellow PTFE cabling installed for the fire detection system (right)
We've had a hive of activity on 1041 a good few times this year and The D1041 Team grows in numbers and is ever more productive. The Transmission Heat Exchanger housing was steam cleaned out ready for new cores to be fitted. Some coolant pipes have been going back in at A-end and the A-End cab cleaning and clearing has also progressed hugely now. Thanks to Stephen, Anna, Phil, Kenny, Dave and any Others I've Forgotten! I have also finally bought some PTFE wire for the fire detection circuits, this has also been massively progresses by Stephen and half of it completed already.
Next on the component overhaul production line was the AV2 valve (air/vacuum relay valve). Once deconstructed it was clear this has seen better days! Well and truly coked up inside. Luckily signs of leaks on the exhauster heads have been the only thing to stop the main pile seizing up. I hope we will have the Vacuum system refitted and back together shortly. Choke valve and filter have already been sorted so that is one less thing to do.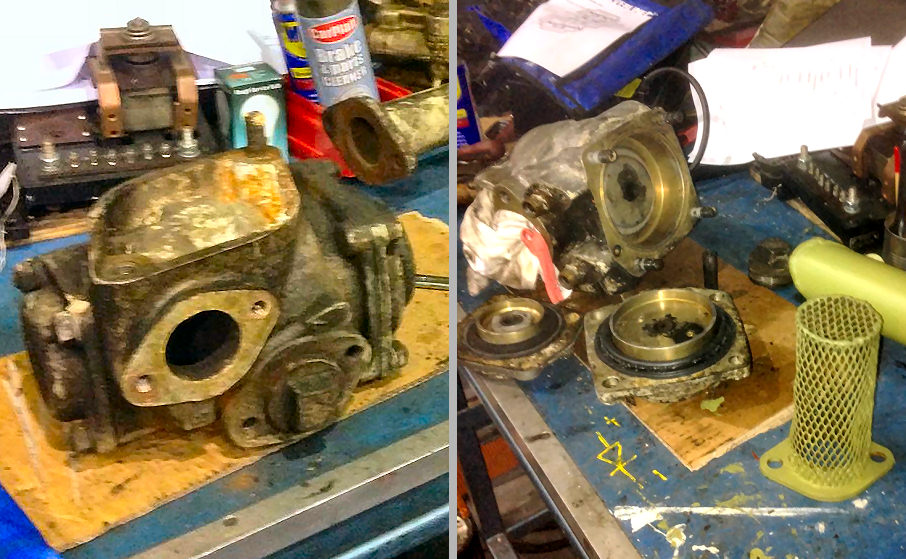 AV2 air/vacuum relay valve split open during cleaning ..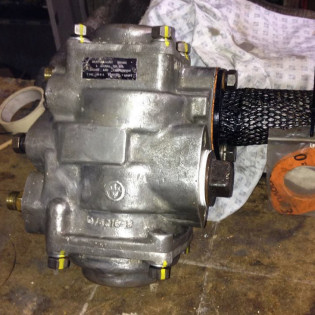 AV2 before work began (left) and the finished article (right) complete with gaskets ready made up
The AV2 valve was finished off one night after work. In fact, once de-coked it didn't need a great deal doing to it. These are rather robust though and, in theory, little should to go wrong. The main thing was to thoroughly clean the hollow stem bores. This particular AV2 does not have a spring return, pressure differentials across the upper and lower chambers are in charge. So it was deep cleaned, poppet valve lubricated, diaphragms all inspected, cleaned and lubricated, new horse hair filter, new seals - job done!
The D1041 project particularly also needed someone with a love for needle gunning! All the remaining coolant pipes, mostly from A-End, needed needle gunning to death, to find weak spots and internal cavitation, then once repaired and painted, they can be refitted around the engine bay.
One of the coolant pipes shows it's weaknesses following needle gunning ...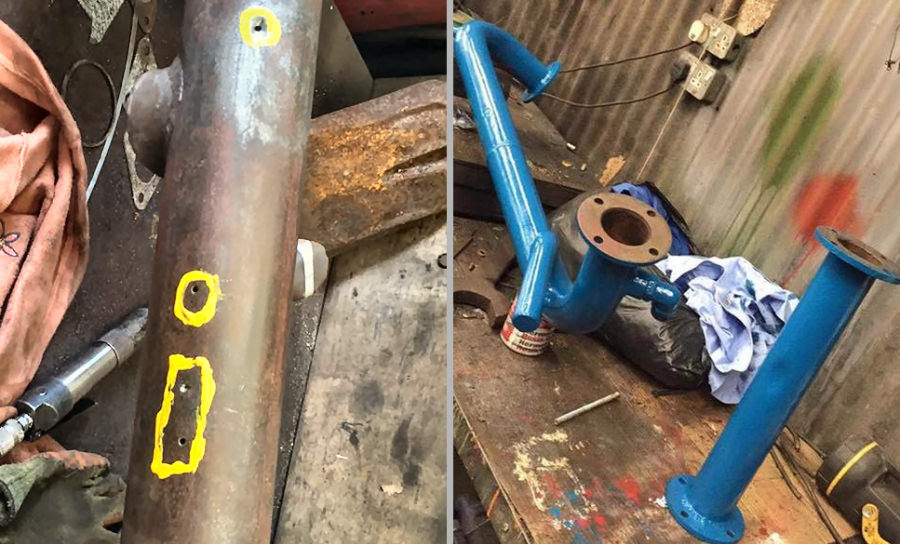 .. another set of holes discovered (left) and some refurbished coolant pipes which were found to be sound
CFPS and ELR volunteer, Paul Lambert, joined the team and has been needlegunning coolant pipework for A-End, removing paint and rust which has inevitably flagged up areas where repairs are necessary. Rather than just clean and paint, the pipes start to show their holes and cavitations once attacked. These only ever get worse and the whole repair process will help prevent them materialising as leaks and potential in-service failures if not found.
As is often the case, the shorter coolant pipes tend to stay much stronger, resisting the corrosive forces which, in a lot of cases, resulted from locos running on plain water rather than specific anti-corrosive coolant mixtures.
In previous updates mention has been made of the two long lost exhausters for D1041. We knew we had them but were'nt entirely sure where they were. They were happily recently discovered in a Mineral Wagon down in Baron Street yard. A top link team dug the wagon out, shunted it to castlecroft and unloaded both exhausters for overhaul and attention. This means all western components are in one place now. If I had tried to organise this with my current workload it would have taken forever to get around to doing so a large vote of thanks to Andrew Slater, Nick Hewitt and Stephen Smith. The Tippler Mineral Wagon was returned to Baron Street the same day and was part of the Diner Shunt consist, which was a bit different!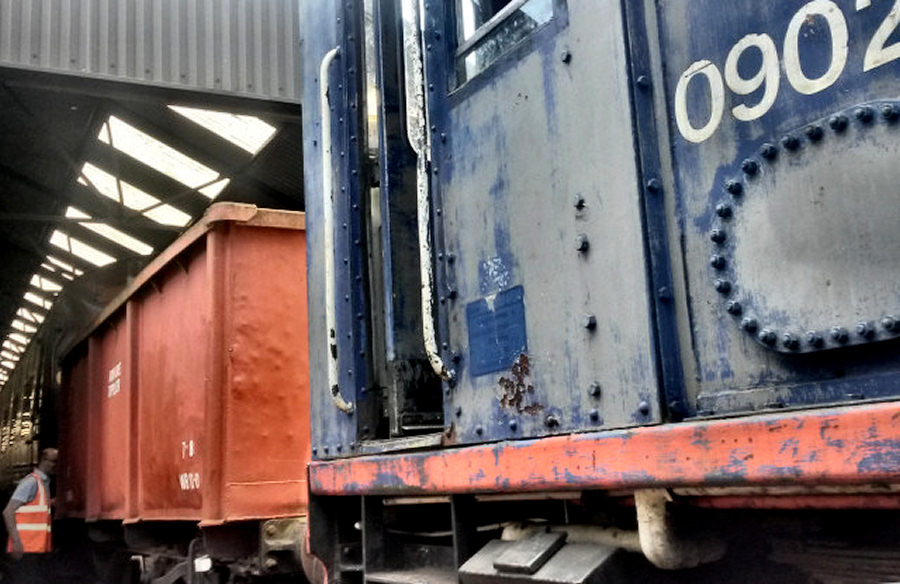 The rather unusual sight of a Mineral Wagon on the Diner Shunt, partway through returning it to Baron Street having liberated D1041's missing exhausters
Once again, apologies for the slow newsflow, we're all busy with lots of projects as well as life in general but, as you can hopefully see, we're making great progress all the time. Big thanks to those of you who continue to support D1041 financially. To make a donation click here for details.
What is rewarding to see, is the average age of the regular volunteers working on D1041 is in the very early 20's. One problem hindering the future of all preserved locomotives and owning groups is a lack of young blood to pass knowledge onto. Thankfully the Bury Hydraulic Group seems to be one of the exceptions at the moment, meaning the future of the East Lancashire Railways beloved Western Region Diesel Hydraulic locomotives is looking very bright.
As mentioned at the beginning, a lot of work is also reported via Facebook as well as the website digests. Please do visit the D1041 Western Prince overhaul Facebook group to follow progress there too; The group is closed for security so you will need to ask to join and await moderator approval.
Kind Regards
Matt Lindley

The previous report (24/11/2015) can be viewed here
If you are interested in becoming a volunteer or would like to make a donation click here for details.