D1041 Bodywork Report: September 2013
Martin Tottle, 20th September 2013
Slowly, D1041 is undergoing a transformation from rust-bucket to a beautiful pristine mop bucket! Since withdrawal from service as far back as 2004, we have been putting off the need to action the body corrosion on the loco, indeed on a quiet night you could actually hear the loco rusting! Pleasingly, the sizeable repair is now well under way.
Initial platework was undertaken a while ago around the lower cab corners and valances however a bit of poking around highlighted the fact that the body skin especially on the cab ends was not really attached to anything that resembled metal; it was obvious that a more permanent repair was required.
We decided to take off nose-end bodyskin from headcode-box level downwards to examine the framework underneath. The framework was found impossible to examine as there was no framework ... just a few bits of evidence that framework was once there!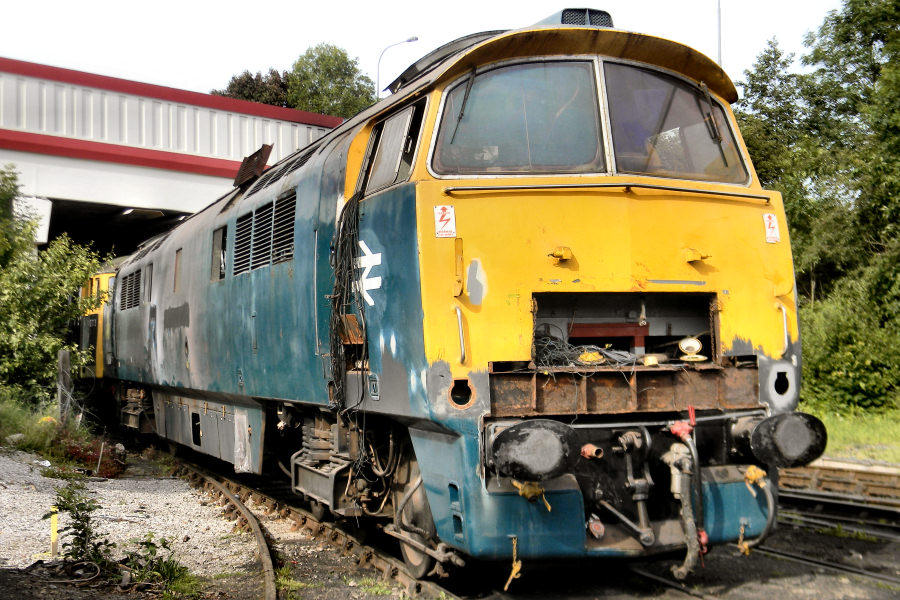 The findings after further corrosion assessment in 2011
More shockingly, the cab vertical support frames were so corroded that they were not attached to the running plate on top of the mainframes and dragboxes, essentially both cabs were found floating in mid-air suspended only by the cab desk and the thin bodyskin, one rough shunt and who knows where we would have ended up!
Other areas of concern discovered were the front sandboxes which are formed into the box section extensions of the bodyside supports; these now after around 50 years of well-fermented damp sandy environment resemble pasta colanders!
The nose end top plates which run back under the windscreens continuing into the cab to form the top of the desk are badly corroded, these will require the screens and frames removing for the plate to be extracted and replaced. Framework where the cabs join the main bodysides has also suffered due to water entrapment in pockets above the cab door handrails and cabside window corners. This corrosion would appear to have been accelerated by the area being under stress by the weight of the 'floating' cabs.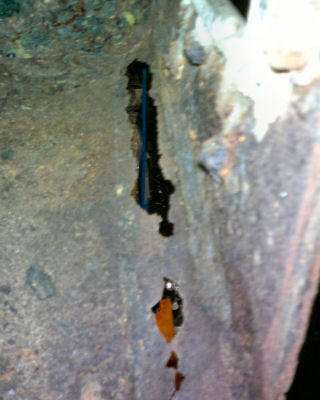 B-End sandbox corrosion, January 2013 (left) and A-End Cab re-attached to Loco! May 2013
All this seems to be a sad story of woe, and yes, it is! Truthfully, if the loco were a car, it would have been turned into a tightly crushed unattractive cube, ceremoniously shipped out to some developing country, melted down and turned into a sky-scraper RSJ a long time ago!
We however at the East Lancs have a driven desire to transform inanimate objects into useful kitchen utensils, Oil-drums into Barbeques, Toilet pans into stunning flowerpots etc. So it was decided that repairing Western Prince would be a mere snip of a job!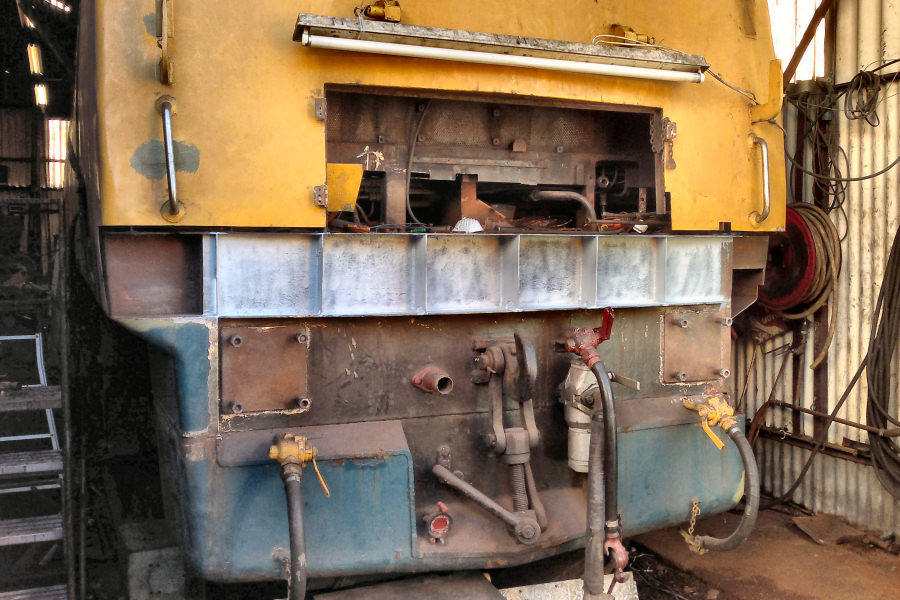 A-End Box Sections complete
As I stated earlier, we have taken off nose end skin, also down the lower cabsides as far as the front sandboxes. Fortunately, the very intricately shaped cab and valance corners are in a good enough condition to clean up and re-use. The lower buffer beam and corner valances are in the process of being removed, these will be sand blasted and hopefully there will be enough metal to repair to a good standard.
A End Modified Spray deflectors, 2nd mans side left, drivers right - also note the extra support webs
New front-end framework has been fabricated and welded in place and new running plate cut and let in to join good metal short of the cab desk uprights. Cab uprights have been cut back to good metal with new extensions added to once again re-unite the cab to a firm grounding on the mainframe ... no more un-necessary cab-bounce!
Cab corner splash-back plates have been welded in place to reduce the build-up of highly corrosive brakedust and other debris thrown up by the leading wheelsets. Additional drain holes will be made to reduce condensation build-up behind the new bodyskins.
The unfortunate side to all this work is that once the bodyskin goes over the top, you won't see it, although I have the scars to prove, we hope the loco will once again look like a Western and last another lifetime!
Here's looking forward to a complete loco in 2014. Please help the project with donations if you can. As always thank you for taking the time to have a look at progress.
Regards
Martin Tottle
The next report can be viewed here
The previous report (28/05/2013) can be viewed here
If you are interested in becoming a volunteer or would like to make a donation click here for details.